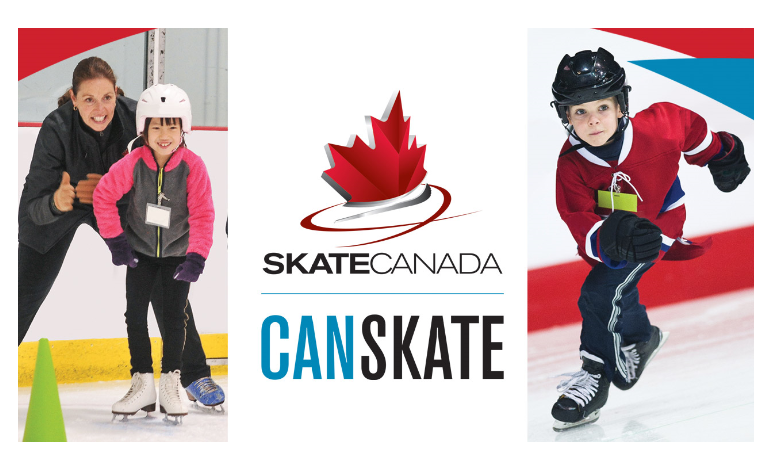 CanSkate Program
CanSkate group lessons are for ages 5 and up, with a focus on fun, fitness, and participation!
The CanSkate Program stresses progressive learning through fundamental movements explored in 6 stages of learning: forward/backwards skating, stopping, turning, spinning, jumping, and gliding. Each of the 6 stages has a primary focus; once a skater masters the skills at a stage, they are awarded a badge.
The program is taught in Group Lesson format by Professional Club Coaches helped by trained volunteer Program Assistants (PAs). Our coaches and PAs work as a team to ensure that skaters have fun and achieve success on the ice. Continual assessment will be done by our Professional Coaches throughout the season. Badges and Progress Report Cards will be given out at the end of each session.
CanSkate is a feeder program for the PreSTAR and STARskate programs. As well, it will help skaters develop basic skating techniques necessary for ringette and hockey.
**CSA approved skating helmets are mandatory for all skaters**
Please dress your skater in warm, ice-friendly clothing. No scarves. Molded or plastic skates are NOT recommended. Skaters must be 5 years of age by December 31, 2022.
This year we are also pleased to announce that our CanSkate will be taught by TWO paid, NCCP (National Coaching Certification Program) certified Coaches plus our wonderful volunteer Program Assistants, as always.
CanSkate Group lessons take place:
Mondays OR Wednesdays, 4:15 - 5:00pm
$125* per session at one day per week
$230* per season (both session A&B) at one day per week
*Additional Skate Canada Insurance Fee of $45 per year
Session A - October 17, 2022 to December 14, 2022
Session B - January 9, 2023 to March 15, 2023
Gary Moe Auto Group Spotsplex, Echo Energy Arena #1
Fundraising of $100 per session ($200 per season) is requested
Fundraising
Fundraising is $100 per family, per session - both A & B
Session A
We have an annual Christmas fundraiser that includes beautiful, fresh, all-natural wreaths, other Christmas home décor, and a selection of coffee and tea. Order forms are available on our website. We ask each family to participate in a minimum $100.00 of fundraising efforts. Your fundraising is due by October 26th, 2022. More info to come.
Session B
Oodles of Chocolate Valentine Fundraiser - more info to come
Year End Carnival - March 5, 2023
To showcase our skaters, we hold a year-end Ice Carnival. This annual event includes skaters from ALL programs enrolled in Session B. It is an excellent way to finish the season, and a real hit with participants and spectators alike! Skaters have group routines choreographed, and costumes, provided by Lacombe Skating Club, for the show.
Participation in Carnival is completely optional, however we ask you let your coach know as soon as possible if your skater will not be participating. Lessons do continue for all skaters, and lesson format may take on a follow the leader type structure as routines, for those participating, begin to take shape
Registration Opens Aug 29,2022