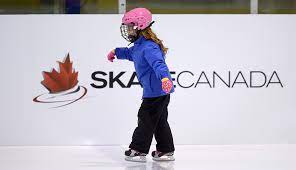 PreSchoolCanSkate Program
PreSchool CanSkate is for skaters age 3 and 4. It is a learn to skate program that emphasizes learning through fun and play. Continual assessment is done and incentives are awarded frequently to recognize participation and improvement. This program is taught in Group Lesson format by our team of Professional Club Coaches and trained volunteer Program Assistants (PAs). Our goal is to ensure that skaters have fun and achieve success on the ice.
**CSA approved ice helmets, with face mask/cage, are required for all skaters**
Please dress your skater in warm, ice-friendly clothing. No scarves. Molded or plastic skates are NOT recommended. Skaters must be 3 years of age by September 30, 2022 for Session A and by December 31, 2022 for Session B.
This year we are also pleased to announce that our PreSchool CanSkate will be taught by TWO paid, NCCP (National Coaching Certification Program) certified Coaches plus our wonderful volunteer Program Assistants, as always.
PreSchool CanSkate Group lessons take place:
Wednesdays 3:45 - 4:15pm
$90* per session (9 lessons)
$160* per season (both session A&B) (18 lessons)
*Additional Skate Canada Insurance Fee of $45 per season
Session A - October 17, 2022 to December 14, 2022
Session B - January 9, 2023 to March 15, 2023
Gary Moe Auto Group Spotsplex, Echo Energy Arena #1
Fundraising of $100 per session ($200 per season) is requested
Fundraising
Fundraising is $100 per family, per session - both A & B
Session A
This year, Lacombe Skating Club is pleased to offer beautiful, fresh and LOCALLY MADE holiday wreaths and swags. Located just northeast of Lacombe, Moniek, of Hulleman Farms, Country Store and Market Garden, will be hand-making them all!
Wreaths measure 22 " - 24" and are a mixture of fresh greenery for $39
Swags measure 20" - 22" long and are also a mixture of fresh greenery for $32
Please see Fundraising Forms for more info:
LSC Wreath Fundraiser Form 2022.pdf
LSC Swag Fundraiser Form 2022.pdf
Session B
Oodles of Chocolate Valentine Fundraiser - more info to come
Year End Carnival - March 5, 2023
To showcase our skaters, we hold a year-end Ice Carnival. This annual event includes skaters from ALL programs enrolled in Session B. It is an excellent way to finish the season, and a real hit with participants and spectators alike! Skaters have group routines choreographed, and costumes, provided by Lacombe Skating Club, for the show.
Participation in Carnival is completely optional, however we ask you let your coach know as soon as possible if your skater will not be participating. Lessons do continue for all skaters, and lesson format may take on a follow the leader type structure as routines, for those participating, begin to take shape
**Once you click the above "Register Here" button please follow prompts to login or create an account. You must have an Uplifter account to view and register for programs.
Please send EMT to lacombeskatingclub@gmail.com
and include your skaters name in message