Top Content Title
This is an additional section to be able to add content
PreSchoolCanSkate CanSkate PreStarStarSkate & Drop-In
Announcements:
Fundraising Wreath and Swag pickup Wednesday Dec 6
Fundraising:
We are pleased to be offering wreaths and swags as our fundraising for 23/24 Session A
from Earthy Accents in Bentley!
We ask each family to participate to a minimum $100
Earthy Accents Fundraiser Swag.pdf
Earthy Accents FundraiserWreath.pdf
CONTACT US:
Info & Registration: lacombeskatingclub@gmail.com
Treasurer: lacombeskatingtreasurer@gmail.com
STAR Assessment Coordinator: lacombeassessments@gmail.com
FunSkate Director: lacombefunskate@gmail.com
Welcome to the Lacombe Skating Club!
The Lacombe Skating Club (LSC) is an organization with a volunteer parent executive dedicated to enhancing and promoting skating in our community.

A community-based organization, the Lacombe Skating Club is a proud member of Skate Canada (our national governing body). All programs are taught following Skate Canada guidelines and are taught by NCCP Certified Professional Coaches, supported by trained Program Assistant volunteers.
Mission Statement: With an emphasis on club teamwork, the purpose of the Lacombe Skating Club is to improve, encourage, and enhance skating in our community.
All sessions take place at the Gary Moe Auto Group Sportsplex in Lacombe.
Thank you to all our 2022-2023 sponsors: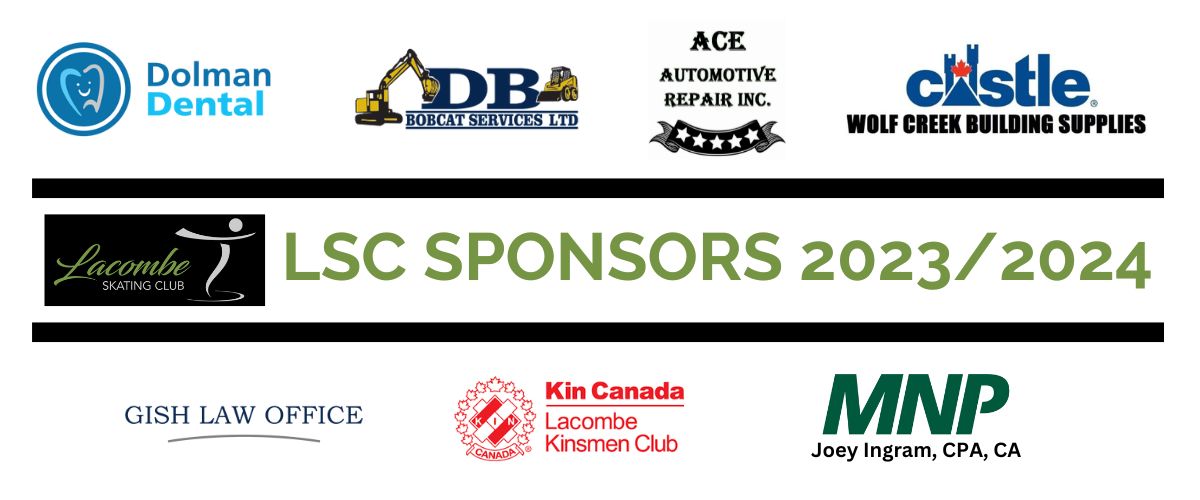 Contact Us
​Lacombe Skating Club (LSC)
Box 5087
Lacombe AB T4L 1W7
or on Facebook: Lacombe Skating Club